The first phase of the initiative brought together leaders from across the cleantech ecosystem to help scale the most promising solutions.
---
The last 18 months have shown what is possible when it comes to climate impact as well as what challenges remain.
Mission from MaRS: Climate Impact Challenge started off with a national call for companies working on solutions to reduce carbon emissions in the energy, real estate, and transportation sectors. MaRS received 74 applications from companies across Canada, from which 10 ventures were selected. These Climate Champions received advisory services and connections to capital and customers through their challenge participation. And the companies are making impressive progress with solutions that have the potential to mitigate megatons of greenhouse-gas emissions. It's estimated that with a market penetration of just 0.1 percent, adoption of these technologies could lead to a reduction of close to 41 megatons of CO2e, every year, by 2030. With better market penetration, the potential impact is even greater.
Here are some of the highlights of this first Climate Impact Challenge and the continuing climate-action work of our Climate Champions.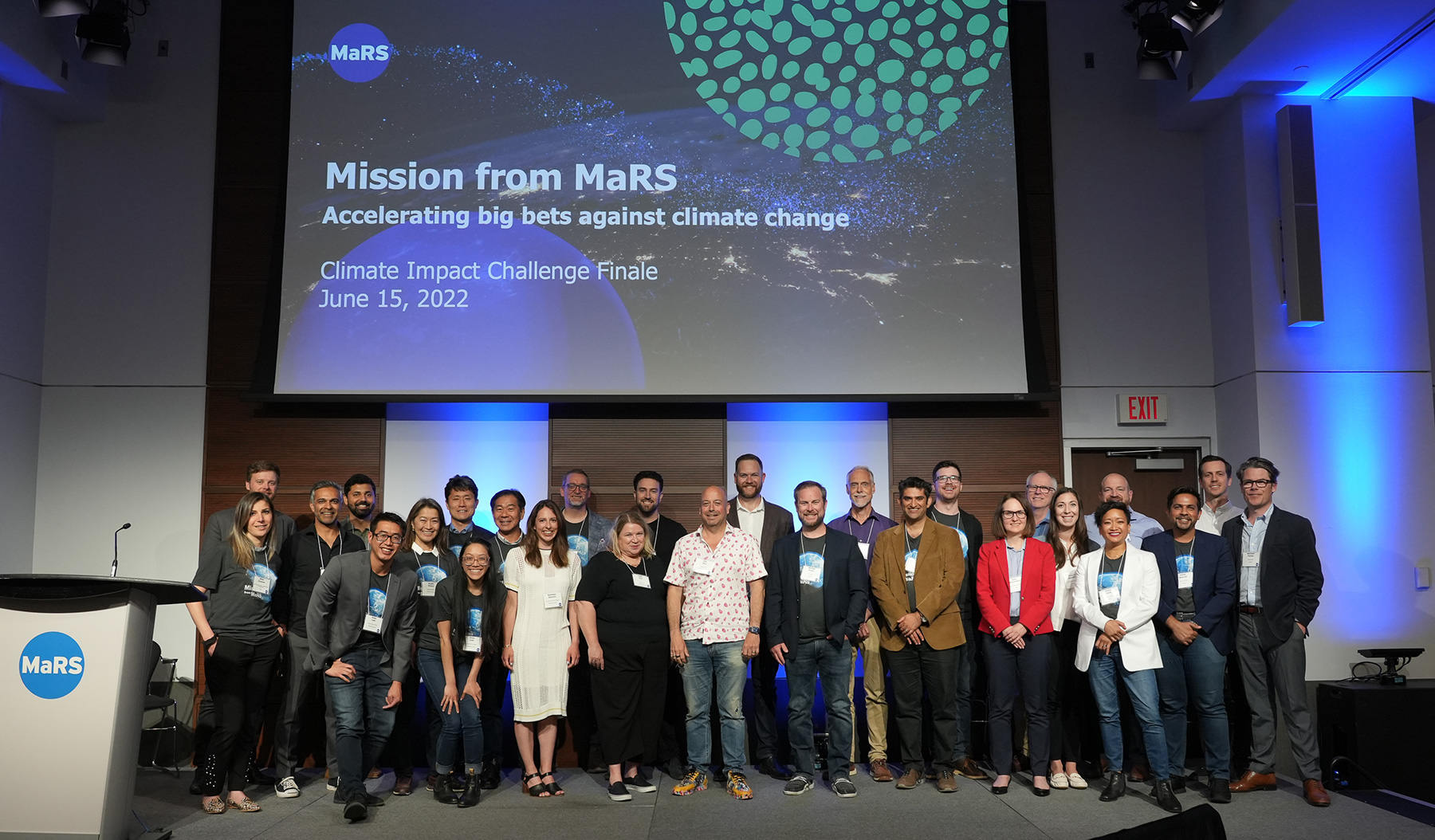 Coming together for climate action
During the Challenge, the 10 Climate Champions worked with more than 50 leaders from business, government, NGOs and the investment community in coalitions that were curated to address the specific needs of each company. In addition, 10 coalition fellows — students from the Schulich program at York University and Carleton University — collaborated with the coalitions and participating enterprises.
Over a six-month period, each of the 10 companies involved met monthly with their coalitions to identify strategies and solutions to overcome their most pressing barriers to scaling adoption of their emissions-reduction solutions. Three demo days and five workshops for ventures and partners were also hosted during the program, and the Scale-Up Challenge report and a 10-part Getting to Net-Zero article series with the Toronto Star raised the ventures' profile outside the program. Plus, MaRS has launched its first podcast, Solve for X: Innovations to Save the Planet, which is hosted by CBC tech journalist Manjula Selvarajah. The series highlights the innovations being pioneered by the Climate Champions.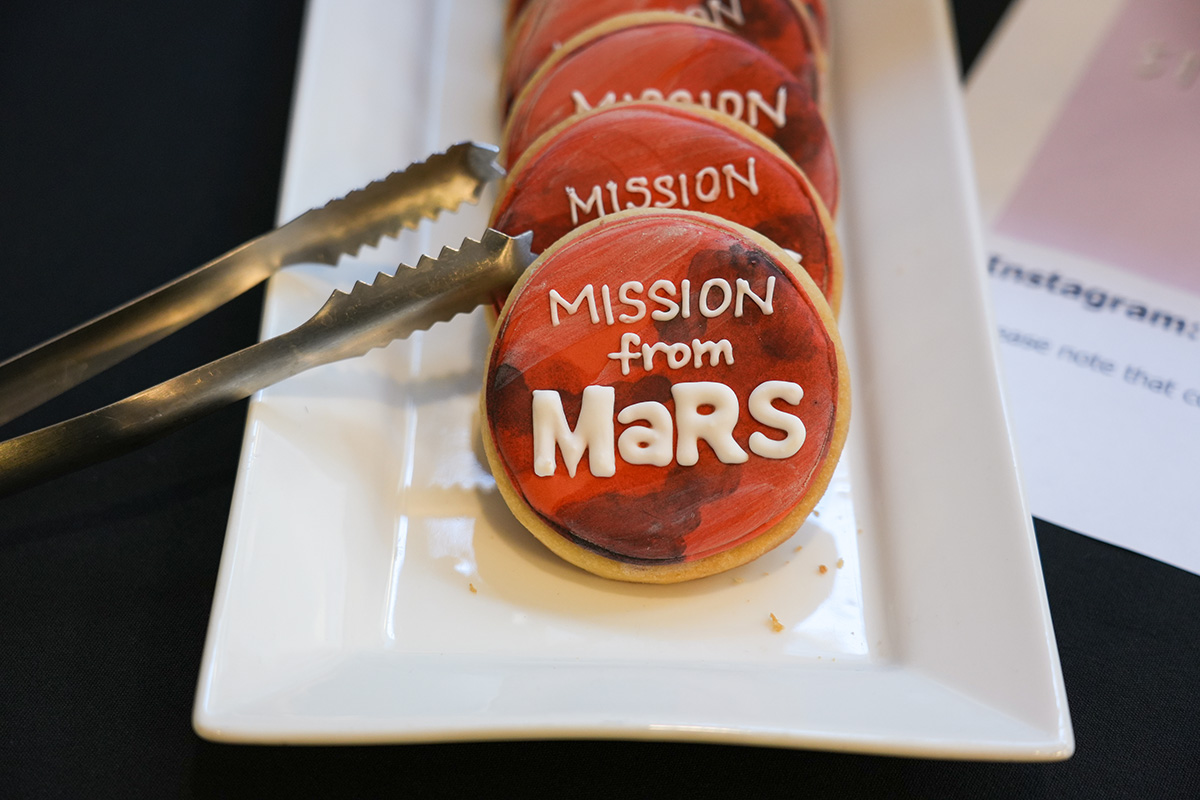 Early Mission from MaRS wins
Collaborating with their curated coalitions and coalition fellows, our Climate Champions refined and stress-tested the value proposition and strategy for their emissions solution, engaged with key customers to better understand their decision-making and buying processes, increased their exposure and profile, and connected with new potential customers, investors and partners.
A detailed program report and impact study will be released in Fall 2022. In the meantime, we're excited to share a few of the wins from the Climate Impact Challenge.
In the last 12 months, companies in this cohort have generated $42 million in revenue. To date, they're raised $960 million and employ more than 560 employees.
As part of the TransformTO Net Zero Strategy, the City of Toronto has accelerated procurement of innovations from any of the MfM Climate Champions.
In June, MaRS and KPMG in Canada launched the Climate Impact Accelerator, a collaboration to help bridge the gap between corporations and ventures.
Flash Forest's drone-enabled reforestation technology planted more than 300,000 seed pods between April and June 2021 in the largest drone reforestation in history. This year, they added to those impressive numbers with planting projects in Ontario, Alberta and British Columbia. MfM was instrumental in the company securing a $1.4-million contract to plant in Canada's worst burn sites. Going forward, coalition advisors agreed to support Flash Forward in engaging with Indigenous groups working on nature-based solutions, and to provide connections for expansion into international markets. And the company is setting its sights high: Over the planting season in 2023, it's planning to plant 480,000 seed pods per day.
With AI and cloud computing, BrainBox AI created the world's first fully autonomous commercial HVAC solution. Through the program, BrainBoxAI articulated how their tech connects with their clients' net-zero journey and refined their data, sales, and marketing strategies. They also signed several deals , including a U.S.$30-million Series A raise and partnerships with KMC Controls, EDC, Landsec and ABB.
Pantonium's bus-hailing app has been a proven success for several years now — increasing ridership, relieving congestion, reducing pollution and saving money — in municipalities across North America. Since launching a new partnership with Regional Limousine to offer on-demand service in Fort Erie, Ont., the community has seen ridership increase to record levels. The service now transports 14 percent of Fort Erie's population, up from 11 percent.
The coalitions developed communication materials to advance emerging markets, such as carbon removal and renewable gases. Our advisors also shared that they will bring new ideas and learnings from their Climate Impact Challenge participation back to their own organizations.
Moving forward
In June 2022, we were able to gather in person for the first time with our Climate Champions, coalitions, and partners and funders. More than 100 guests gathered to hear about the highlights and successes of Mission from MaRS, and to learn more about the need for ongoing support for climate-tech adoption and net-zero pathways.
Watch for further information about Mission from MaRS this fall, in our detailed report and impact study. At this point, as the Climate Impact Challenge comes to a close, MaRS wants to thank all our coalition advisors for their time and invaluable advice. In addition, thank you to our founding partners and supporters for funding this important initiative: HSBC, RBC Foundation, Trottier Family Foundation and Thistledown Foundation, Peter Gilgan Foundation, Business Development Bank of Canada (BDC), Export Development Canada (EDC), and Mitsubishi Corporation (Americas).
And last but not least, we want to thank our 10 climate champions: BrainBox AI, Carbon Engineering, Effenco, Extract Energy, Flash Forest, Opus One Solutions, Pantonium, Peak Power, Stash Energy, and StormFisher. We look forward to watching your continuing successes and engagement with the climate-tech ecosystem.

To connect with us, please reach out through mfm@marsdd.com.
​​